Learn here how to make a candlestick chart in Datylon for Illustrator using 2 Arrow charts
Introduction
A candlestick chart is a financial instrument used to visualize price movements for stocks, securities, derivatives, or currencies, etc. Each candlestick typically shows one day and depicts four important elements of information for that day: open and close in the thick body; high and low in the candle wick.

The chart is also known as a Japanese candlestick chart and thought to be developed as early as the 18th century in Japan. The sources vary on that point, but everyone agrees Candlestick charts are great for visualizing market trends over time and are useful for interpreting the day-to-day sentiment of the market.

In Datylon for Illustrator, a candlestick chart can easily be created with 2 Arrow charts driven by one single data sheet. One Arrow chart represents the candle (open and close values), while the other Arrow chart visualizes the candle wick (high and low). The color of the candle adds extra information to the chart: red means close is lower than open so the values have decreased during the day, blue or green means the values have risen.

And as for all other charts, Datylon allows you to style your Candlestick chart to the finest graphical detail, making your designs appealing and on-brand.
How to create and style candlestick chart
Step-by-step


If you are unfamiliar with Datylon for Illustrator, please read this
article
or see on of our other videos in the Help Center first.
After drawing the Datylon chart box on the Illustrator artboard, select a vertical Arrow chart from the sample charts in the Datylon panel.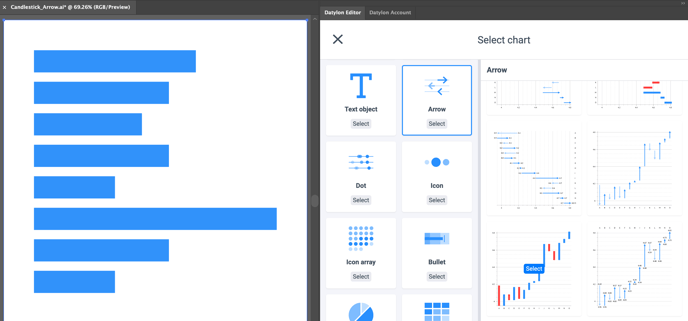 Add data as for any chart by pasting in or loading a datasheet in the Data manager. In this tutorial we use stocks data.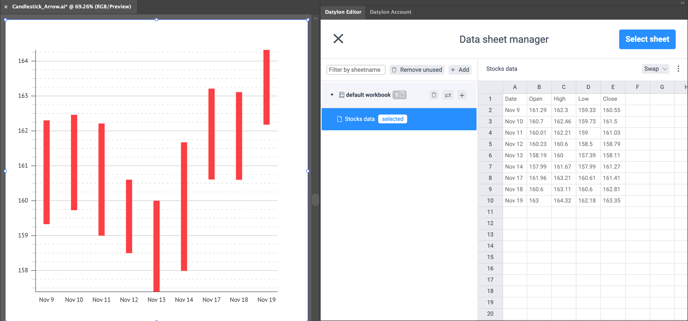 Under the Binding tab, bind the high and low columns to Value 1 and Value 2 accordingly.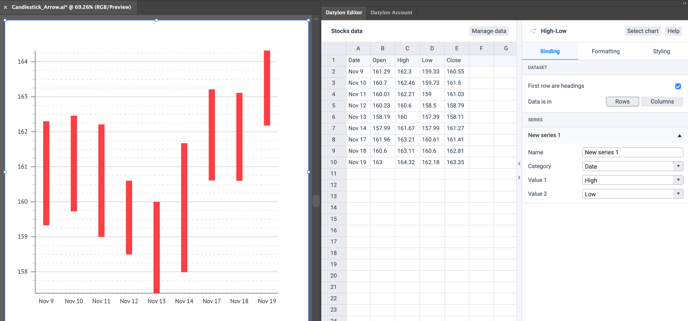 Set min and max values for numerical axis in Styling > Numerical Axis > Min & Max Value.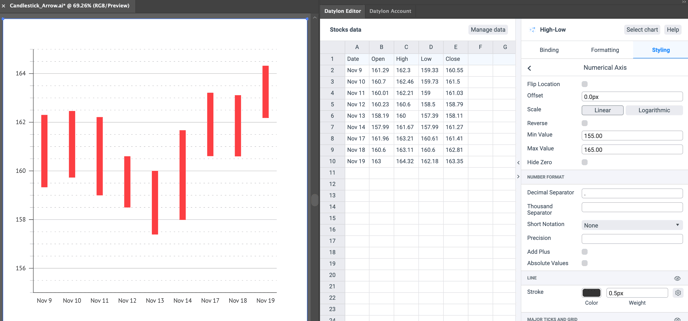 Style the arrows to make a candle wick ( Styling > Arrows > Stroke ).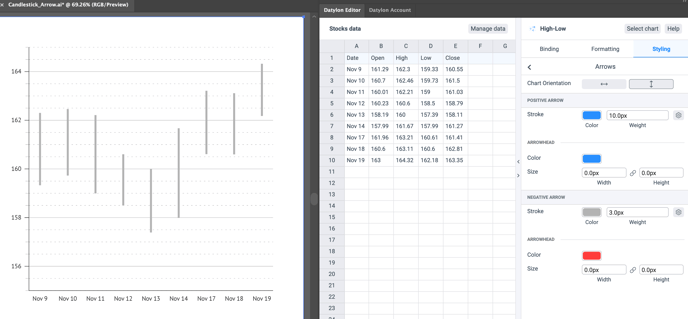 As we are going to use 2 charts, avoid confusion and rename this first one to "High-Low" by editing the chart name in the Datylon panel.
Now select the chart on the artboard in Illustrator. Copy (Edit > Copy

) and paste it in place (

Edit > Paste in Place

). Rename the new chart to "Open-Close".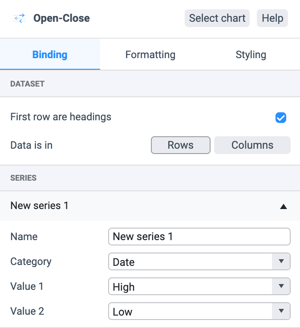 In the Data sheet manager select the original data sheet (Manage data > Select the correct data sheet > click the Select sheet button) Now the 2 charts are linked to one and the same datasheet.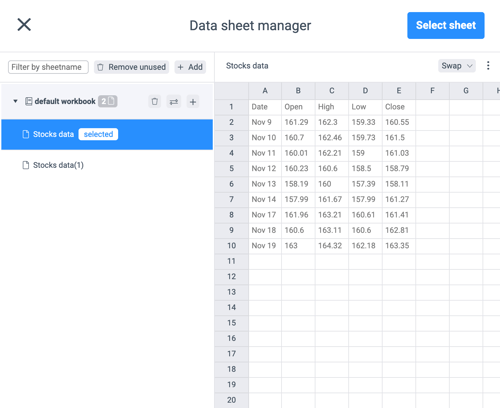 Bind open and close columns to Value 1 and Value 2 accordingly.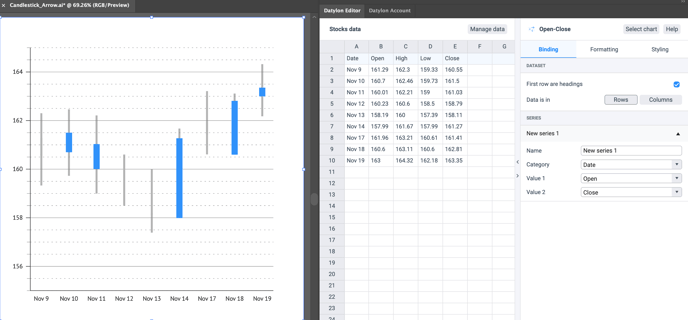 Style arrows, or candles, to your convenience using Styling > Arrows > Stroke. We used red for low close, and blue for high close.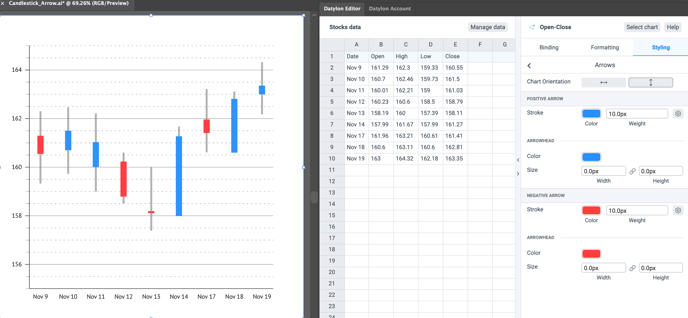 Remove axes, gridlines and axis labels for the "Open-Close" chart in Styling > Numerical Axis > Line, Major Ticks and Grid, Minor Ticks and Grid, Labels. And we're done! Now you can use your chart in any layout or export it to any format.


Save yourself some time for the next candlestick chart. Keep one version as a template and take a copy to re-use it with new data. Make sure to bind both new Arrow charts to the same datasheet after copying.