Latest new features in Datylon for Illustrator & Datylon web app
Support for Adobe Illustrator 2021

As from now, Datylon for Illustrator runs on Adobe CC 2021 (v25, released October 2020). You can now combine all the goodies of Illustrator v25 with the latest features of Datylon for Illustrator version R42. More info on supported older versions and system requirements here.
New features in Datylon chart maker, online & Illustrator plug-in

CHART LIBRARY
Power up with our extended chart library
The built-in Datylon chart library now contains over 120 chart templates that will help you create charts quicker, easier and with more variation. They can also be used to create your own on-brand custom templates. Just create a new chart with the chat maker, and select one of the templates from the list.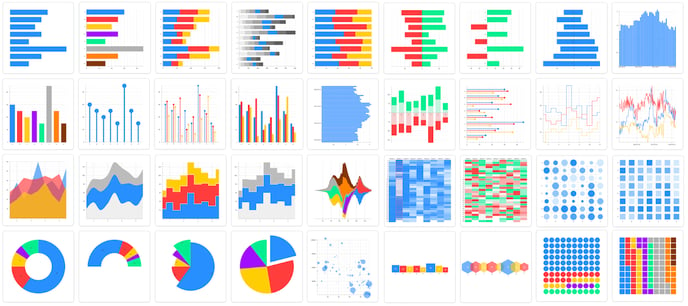 DATA MANAGEMENT
Gain time with 'Swap workbook' functionality
The 'Swap workbook' button is a bit hidden in the data management tool but oh so efficient when data changes frequently and/or last minute while designing charts. In one click you can update a complete workbook containing multiple data sheets.
And now in R42, your data point styling and formatting settings are kept reducing the manual work to none when updating charts.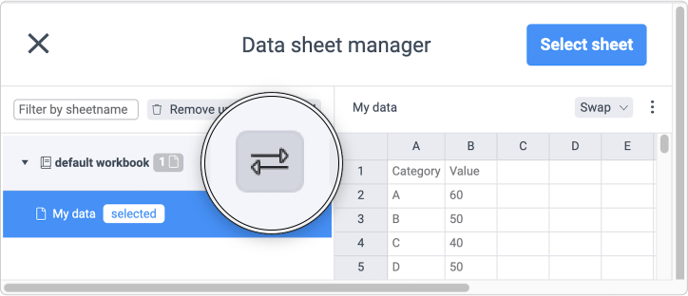 Learn more about swap workbook and data management here.
ADVANCED STYLING OPTIONS
From zero to hero
Yet another useful Datylon styling option. Sometimes a zero in your data is very significant. Sometimes it is not. You can now choose to show or hide zero's in your data labels for Bar, Pie, Icon and Bullet charts.

Bullet chart
The color of the bar of a bullet chart can be driven by data. Just add a hex code or a hex name to the data, bind it to the bar color and off you go! See more info here.
New features in Datylon chart maker web app
Improved UX & reducing clicks
Simply by using 'Control-Click' or 'Right-Click', you get a shortcut menu with all the relevant options for any of your designs, workbooks or templates. For instance, creating a copy or a template from a design is now literally just one click away.