Version
Datylon Graph for Adobe Illustrator: Beta v0.33.0
Datylon Insights: Beta v0.33.0
Highlights Datylon Graph
Improved Bar Chart
More rounding options in multi-series Bar Charts.
Try out the options in Styling > Data > Bars

Option to change the series alignment position in a diverging Bar Chart.
Styling > Bars > Multi-Series > Diverging > Series Alignment Position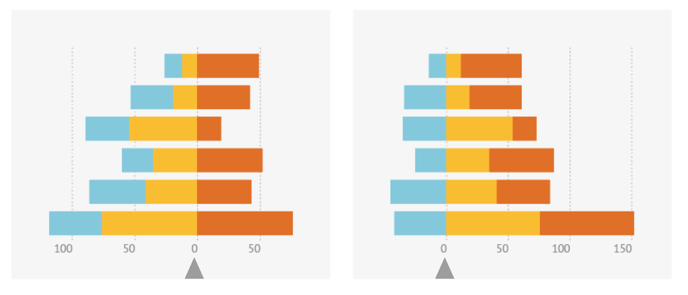 Smart Data Marks positioning, specifically in case of negative values
Added more text and paragraph styling options for Labels
Tracking: sets the space between characters

Leading: sets the distance between lines
Improved user interface
Improved icon ordering in Icon Array
More logical user interface layout of General properties

Added info tooltips on some properties

Data sheet manager:
Drag & drop Data Sheets across workbooks. Make sure to use unique names within one workbook.
Added features in CMYK mode
Color binding with CMYK values: Specify CMYK colors in your data as CCC,MMM,YYY,KKK using whole numbers between 0-100 separated by commas.
Gradient colors: In the Color Picker, you can now select CMYK colors for Start and End points of gradients.
Improved font support
OpenType (.otf) fonts are now supported. See this article for more information.

Improved Installation
Datylon Graph is installed on all supported Adobe Illustrator versions available on your computer. Uninstalling removes Datylon Graph from all Illustrator versions.


New licensing policy Datylon Graph


From now on, registered Beta users have free access to Datylon Graph Beta versions for a period of 60 days after its release.
You can find the number of remaining days before expiration in the Illustrator menu: Help > About Datylon > Datylon Graph…
Stay tuned as we plan to release one or more Beta versions in the coming weeks.
Highlights Datylon Insights
Demo data stories including download links to the native Illustrator files are available in Datylon Insights. We are adding more demo files on a regular basis, so visit us regularly for inspiration.


Demo templates can be used when creating stories

Added d3 color palettes in the online editor