Datylon Report Studio
Save precious time with bulk actions
Producers of multiple reports in Datylon Report Studio or Datylon Report Server will appreciate that you can now effortlessly select multiple designs or templates, enabling you to perform tasks in bulk. Whether it's to organize your files or clean up your workspace - say goodbye to tedious, repetitive work! Easily select and move multiple designs into a folder in one swift motion - or delete them all at once.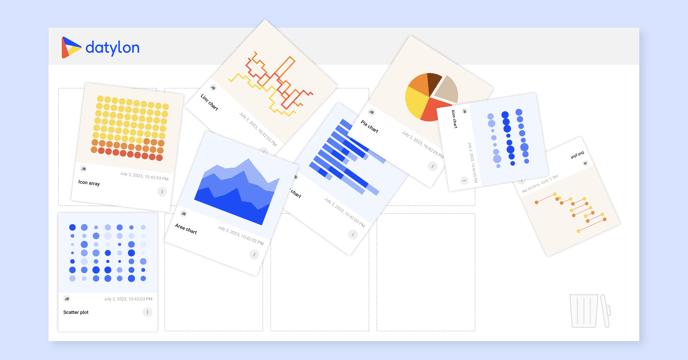 Datylon Online Chart Maker,
Datylon for Illustrator
Data cropping
Data cropping allows you to crop the data of a chart by means of a minimum and/or maximum value of a numerical or datetime axis.
For example, it might be useful to visualize only a section of a line chart you are interested in.
Applying this property may cause distortion of the data representation. It is recommended not to use it on bar charts.

To use it, check the "Allow Data Cropping" option in Styling > Axis (Numerical or DateTime axis only), and set min/max values or dates that fall within the data range.
Caution! Only works if Styling > Position and Size > Plot Area is on Fixed Position.